您现在的位置:
北京零频道
>> 关于我们
北京零频道
北京零频道是一家专业从事纪录片制作、发行与传播的传媒机构,是中国最大的优质纪录片传播与营销中心之一。
我们已经:
专业的纪录片发行网络 与中国200多家电视台建立了10年以上的合作伙伴关系,发行近2000小时国内外优秀纪录片。
纪录片沙龙 2005年开始,面向大学、电视台及其他社会机构和公众,组织公益性的优秀纪录片观摩活动,至今已经举办了800多场,参加者愈万人。
纪录片工作坊 2006年夏天至今,已举办17期,面向纪录片爱好者及电视台专业人员,邀请有丰富国际制作和制片经验的纪录片人,分享他们的一手经验,培训纪录片制作人员百余名。
纪录片剪报 创建于2007年,面向社会公众以纪录片为主题的电子杂志,提供和纪录片相关联的多元文化动态、信息及观点,迄今已编辑发布逾百期。
iDOCS国际纪录片论坛 (www.idocs.cn) 中国第一个获得官方认可的独立的国际纪录片交流平台,是一个以传播世界优秀纪录片为核心的非营利性的多元文化交流活动。四届iDOCS分别于2009 、2010,2011和2014年的12 月12--17 日在北京成功举办,每届iDOCS都邀请了国际上10 多位顶级纪录片导演,让上千中国观众第一次看到全世界最好的纪录片内容,获得业界、学界和百余家媒体的一致好评。
iDOCS国际纪录片视频图书馆 (Video Library) 国内唯一可以看到最大量国际最新获奖纪录片的地方,在纪录片爱好者的呼吁声中创办,注册为会员后可在馆内欣赏到全世界风格各异的优秀纪录片。目前我们拥有超过3000部国内外优秀获奖纪录片。并且我们和国际纪录片制片方保持长期联系,不断有新片入库,馆内藏碟丰富,主要分为:大师系列(国际纪录片大师的作品集)、经典片库(国际获奖纪录片)、海外片库(国外优秀纪录片)。
我们擅长:
为电视台和观众提供好内容。
为优秀纪录片提供多样化的传播渠道。
为国内外纪录片制作人提供专业的制片服务。
为国内纪录片创作者提供专业培训和国际交流的机会和途径。
创意型纪录片制作
北京零频道(www.bjdoc.com)
- 专注纪录片 关注新文化 致力于建立开放式平台 传播和推广全球当下最优秀纪录片 展现多元价值 催生建设性文化生态。
About Us
Established in 2000, Channel Zero Media is a leading media and production company in China, specializing in the production and distribution of documentary films worldwide, It is one of the largest documentary film sales and broadcasting centers in China。
What we have achieved:
Distribution network: we have pioneered to establish a professional documentary film distribution network in China. We have built partnership with more than 200 Chinese TV broadcasters and distributed more than 2000 hours outstanding documentary films.
Documentary salon: we have hosted more than 500 documentary film screening events to public, attracted more than 10,000 audiences yearly since 2005.
Documentary workshop: we have organized documentary filmmaking workshops since 2006. four-sessions every year. We have been supported by experienced international documentary filmmakers. We have just celebrated our the 150th graduate students.
Documentary Bulletin: we also have established an e-magazine titledand already have released 100+ issues since 2007, which received well by the people.
iDOCS International Documentary Forum (www.idocs.cn)-- iDOCS is the first independent international documentary forum that has been officially recognized by the Chinese government. It is an annual event held during 12th-16th of December in Beijing.It is a non-profit cultural exchange activity to promote world's quality documentaries. The first and second iDOCS have been launched successfully in 2009, 2010 2011 and 2014 December. Four editions invited more than 60 established documentary directors, presenting the world's best documentaries to thousands of Chinese audience for the first time. Feedback from the industry and media came back positive.
iDOCS Fund the iDOCS fund is founded in 2011 in Beijing. Its purpose is to assist the starting, fund-lacking, independent documentary filmmakers. All the funds of the iDOCS fund come from personal donations. iDOCS International Documentary Forum has received many personal donations since its starting date in 2009, and with these warm supports from individuals, the forum are able to be kept running till today, now we would love to spread these warm supports wider and more effectively. In 2011, the iDOCS fund will help those capital-lacking independent documentary filmmakers participate in 2011iDOCS , thus offer them one opportunity to communicate with international documentary masters.
What we can do:
Content provider--- offer high quality contents to the audience and TV broadcasters.
Distributor & Market consultant---offer a variety channels for excellent documentary films.
Production services for international documentary filmmakers.
Training opportunities & international networking platform
Creative documentary production
Our Mission:
We focus on documentary film and we track on new culture trend. We dedicated to enhance an open platform for the dissemination and promotion of the world leading contempary documentary films, to show case the depth of diversity, value of pluralism, the birth of constructive cultural ecology.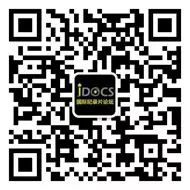 iDOCS国际纪录片论坛
第一个获得官方许可的独立的国际纪录片交流平台
以传播世界优秀纪录片为核心的非营利性的多元文化交流活动
"一个国家没有纪录片,就像一个家庭没有相册。"

——智利纪录片导演 Patricio Guzman
微信:iDOCS_film
微博:@iDOCS国际纪录片论坛